I know a few of you are upset that I am addressing the other blog and writing another post on it. I had anticipated Friday's post would be the last one but I have received a ton of emails over the weekend from people who provided reasons as to why they think the identity of that blogger is this one or that one. There were a few emails naming the same person and not only did they provide their reasons they backed up those reasons with some screenshots that in my opinion are hard to dismiss. If you are looking for an update on Ayla's case, this post is not it. Unfortunately there has not been much by way of updates lately. I am working on a few leads and I promise we will write about any new info on Ayla as soon as we have it.
As many of you know, the other blogger started the personal attack on me, first trying to discredit me by fabricating a story about supposed emails then by starting rumors that I was in jail knowing full well I was not. They also insinuated that I was an unfit parent, I was going to take the high road but I am only human. That blog seems to have people who think that what they are doing is okay, they are just looking at all angles. Unfortunately it appears even readers and supporters of that blog are being duped. If this person has a history of playing games with people to get a rise out of them, they need to be exposed for their true intentions. If they are using Ayla's plight to play a game, they need to be held accountable for it. If Ayla's family is releasing information to them even they should be made aware of the game this blogger is playing. IF, and that is a big IF, Justin is innocent in all of this and wants the public to believe his story he should not be leaking information to this blogger and if Justin is aware of the blogger's true intentions and their past history then what does that say about Justin or Derek and Selena who actively post on that blog?
They inserted themselves into the middle of a highly emotional case. A little blonde haired, blue eyed girl named Ayla Reynolds is missing. She has not been found and with each passing day the likelihood that she is still alive diminishes greatly. Ayla went missing in my neighborhood, she is very close in age to my child. I did insert myself into this case but in the best of intentions. I know I have been vocal about my belief that Justin is guilty. I also know Justin has not been charged with a crime and has not been convicted by a jury in court of law. This isn't a court of law however, this is the court of public opinion. If the blog was solely there to look at both sides of the coin, I would not have an issue with it. I may not like some of the things written but that is life. That isn't what is going on over there though. The blogger is not taking information that is relevant to the case and dissecting it. They instead are trying to smear Trista using any and all information that they can find. Not only are they trying to smear Trista and her family. Their attack on me was unprovoked. Up until that attack, I actually was telling people not to out the blogger, that it didn't matter. It just goes to show how this is all a game to them.
As I was sorting through some of the information sent to me, I came across a link to a site called
Baby Gaga
. It appears that this blogger has an issue with mothers who have lost children either by a miscarriage or in this case a child that was "abducted". After reading through the comments on that thread, I see that this person who I believe is the JSTL blogger played some of her games with members on this site too. She even lied about having a miscarriage and even played the same trick with claiming to have emails from someone. It appears this person who used the name FeelingSoFlyLikeAG6 has since removed their account so it just says account removed on their postings. This person admits her real name on page 3 I believe.
C.A.P. are the initials of who I believe the Lies blogger is. I will go into detail in a minute as to why I think the information sent to me is accurate. First, reading through this thread on Baby Gaga, it seems that C.A.P. played a little game on a regular member on that site. She apparently emailed this girl's father and significant other and directed them to posts made by this woman on this site, I guess in an attempt to cause hate and discontent. She claims to have emails that she will screenshot and post and never does, she also was accused of setting up fake facebook accounts. Sound familiar? This was back in 2010 so apparently Lies has been playing this game for awhile now.
posted 28th Nov '10
Quoting kthx.:" Lol please. My dad and I sat down and talked about this. He said the only messages he got were from ... [snip!] ... something amazing, but you didn't! My father never even gave you the time of day, does that piss you off? I know it does "
This is smurfing hilarious. Considering all I have to do is screenshot the actual messages. I have NO reason to lie.
Why would I tell you I'm going to do something here and then do it from a fake account? I've offered a MILLION times to forward you the message I sent.
Yes, your dad DID respond. D....L..... asking for MORE info. Stop while you're ahead.
quote
smurfs?
I have 4 kids & live in
Texas
Of course after reading this, my curiousity was piqued and I was sure this information may be on to something. It only got more interesting from there. I will lay some of the info out for you and you all can decide if it is coincidence or not.
One of the people who investigated the true identity of the blogger started with a search of
Photobucket
and the username "juststopthelies". The link posted above will take you straight to the profile that my sleuther found. When they first researched this, there were pictures of emails uploaded onto the site and some others that have since been removed. The profile is not private and I was hesitant to post this information because I am sure C.A.P. will now set the profile to private. When this was first discovered there was a picture that was in one of their albums that my sleuther was able to trace the URL of and found that picture posted on the websleuths forum under the username HiHater.
Coincidentally enough, HiHater posted a comment similar to one JSTL posted on her blog about her child being missing for a short time and the panic that set in.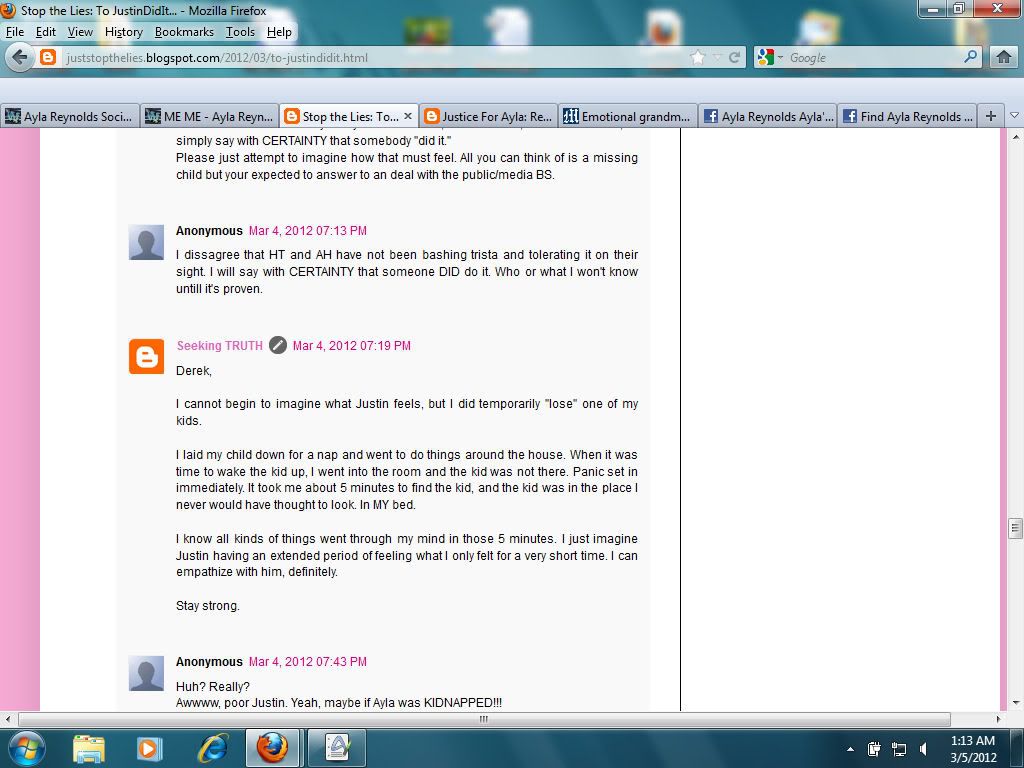 This all helped me to figure out that Lies was possibly HiHater but how do we go from HiHater to C.A.P.? After scouring through posts by HiHater on websleuths.com, one of my sleuthers was able to pick up on some personal information in some of their posts.
(I also realize that I am violating terms of service on websleuths.com even though I did not take the screenshots but by posting them I am probably going to get banned. I am upset by that because I do like that site a lot of think the members that I talked to there are wonderful and my intentions were not to upset them in any way but I think that outing JSTL is also very important in order to stop the personal attacks on Trista, myself, and to stop this person from using Ayla in the sick game they are playing)
Rhayne is not a common name so that was helpful in narrowing down who this person might be. Another piece of information that matched up was mention of flying to N.J., Lies also posted on her site many times that she goes to N.J. each year.
HiHater is also from Texas, Lies also claims to be from Texas. A little digging via Google with some keywords came back to information on C.A.P. and from there all of the pieces of the puzzle fit together. As much as I would like to put all my eggs in one basket and lay it all out to you all now. I have to reserve some the of the information uncovered for the time being. I think there is more than enough information for you all to do a search of your own to make sure the pieces fit together.
Lies tries to excuse her actions and her attacks on me claiming I do the same thing to Justin and his family. There is a difference. I do not start rumors that are baseless. I look at evidence and form conclusions. I have never stated anything I say to be anything other than speculation. I provide facts and evidence so people can look it over and form their own opinions. I also do not view Ayla's case as a game and that in itself is despicable. I am sure Lies will deny that she is this person and go on about how crazy I am. If I am wrong she can prove it by posting her real identity.